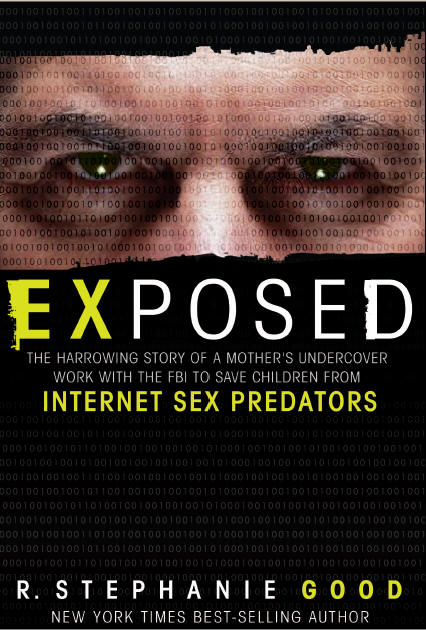 CLICK LINK BELOW FOR A MAP TO FIND SEX OFFENDERS IN YOUR AREA
Dru Sjodin National Sex Offender Public Registry
CLICK LINKS BELOW TO READ ABOUT SOME OF THE PREDATORS I HAVE HELPED PUT IN PRISON

WEBSITES WE HAVE TO SHUT DOWN
FAQ's
Sexual predators are every which way you turn. They come from all walks of life. They find children who are receptive to their advances and they use cunning and manipulative tools to "groom" them.
I go onto the Internet as a young girl and chat with sexual predators. I have also talked to them on the phone for the FBI and I've come face-to-face with them in the courtroom when they haven't pled guilty. I have even participated in an arrest and I've spent days on the witness stand while their attorneys try to discredit me by using deceitful and disgusting techniques. But, I have a 100% conviction rate! In other words, when the sexual predators meet me, it is their last stop before a federal prison cell!
EXPOSED describes the chats, the phone calls, and the trials. Being part of an arrest was an exciting and frightening experience that I describe in great detail. You will also see how the perverts try to wiggle their way out of trouble in court. They are pathological liars and they will stop at nothing to get at your children. And I will stop at nothing, within legal means, to get them.
EXPOSED is like nothing you have ever seen. It is much more intricate than Dateline. I am not the little girl who hides behind the door and invites them in. I take the case from inception to jail cell and I take you along for the ride. It's exciting and rewarding and you won't believe what you are reading because you have never met anyone like me before. I am the only citizen who has been allowed to work on a daily basis with the FBI to identify and prosecute Internet sexual predators and I began doing it in 2003 before Dateline's series "To Catch a Predator" began.
I was shocked when I first learned how prevalent Internet sex predators are. Once you read EXPOSED, you will be horrified at what's going on when your kids are online. When you see how sexual predators talk to them and manipulate them to leave the safety of their homes for a meeting, you will be as angry and disgusted as I am. I have all of the tools necessary to help you protect your children. It's simple, but you need to know the truth about what's going on online before you can understand why what I tell you to do is the only answer.
CLICK LINK BELOW FOR FBI CRIMES AGAINST CHILDREN INFORMATION:
http://www.fbi.gov/hq/cid/cac/crimesmain.htm
CLICK LINK BELOW AND CLICK PLAY TO HEAR MY INTERVIEW WITH JANET PARSHALL
http://mefeedia.com/entry/3406968/
JACK McCLELLAN STALKS CHILDREN! CLICK LINK BELOW TO READ MORE:
http://www.crimesceneblog.com/?cat=84