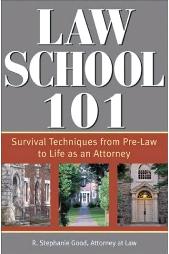 "A step-by-step, issue-by-issue, walk-through of the challenges that face every new law student, with the emotion and stories that bring the experience to life for the reader!"

—Paul M. Lisnek, author of "The Hidden Jury,"
Executive Director, BarBri Law School Prep Program

Finally the Truth Revealed...
Each year, law schools graduate more students than there are practicing lawyers. Why? Because most prospective students have unrealistic expectations and preconceived notions of what law school and the legal profession are really all about. Many enter law school expecting wealth, prestige or the exciting lives of the fictitious attorneys on Law and Order and The Practice without ever considering the very real pressure, competition, workload, and commitment involved. This book shatters the myths and hype surrounding law school and the practice of law by educating the reader about the actual challenges and realities encountered.

This insightful and often humorous guide encourages prospective students to take personal inventories of themselves in order to decide prior to entering law school whether their expectations about being able to meet the challenges are realistic. The reader is taken on a guided tour through the hallowed halls of legal indoctrination, from the decision-making process through all of the unexpected pitfalls and stresses of law school life. Law School 101 fills in the gaps about the state of mind that is required for success in law school. It allows the reader the opportunity to see things in terms that are not only coherent, but also enjoyable. While it is extremely informative, it is light and easy to follow.
KEEP AN EYE OUT FOR THE UPDATED VERSION - DUE OUT NEXT YEAR!